History of the Forbes Center
The Forbes Center for the Performing Arts is transforming the performing arts at James Madison University. Classroom, rehearsal and performance spaces for JMU's award-winning theatre, dance and music programs are enriching learning opportunities and provide the potential for state-of-the-art production values to match. The result is an educational experience for students and an unforgettable experience for audiences.
Transformation
Time-lapse video offers view of history (June 4, 2010) — Now that construction of the Forbes Center for the Performing Arts has been completed, a time-lapse video offers a view of history.
Announcements

Celebrating transformation (Posted: Oct. 28, 2010) — A plaque commemorating the JMU Alumni Association's gift of $500,000 to support the Forbes Center for the Performing Arts by naming the Alumni Association Arts Courtyard is now in place. Madison's visual and performing artists enrich life for countless others, and the Alumni Association is proud to honor their endeavors.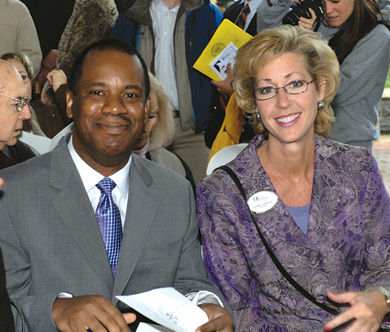 Alumni Arts Courtyard Honors Madison Experience (Posted: Sept. 14, 2010) — The JMU Alumni Association donated $500,000 to support the Forbes Center for the Performing Arts by naming the Alumni Arts Courtyard at the entrance of the Forbes Center. The courtyard honors the Madison Experience and Madison's long tradition of excellence in art, dance, music and theatre education.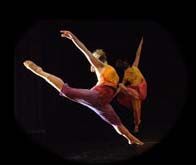 JMU Announces Performing Arts Center Seat Naming Campaign (March 20, 2008) — JMU donors may now enhance the transformation of Madison's performing arts programs by underwriting seats in two premier venues in the new performing arts center.


JMU Welcomes Largest-Ever Gift (March 14, 2008) — Longtime JMU supporters Bruce and Lois Forbes have given the university the largest gift in the institution's 100-year history. Their gift will name the performing arts center. At the same luncheon where the Forbes' gift was recognized, a generous gift from Dick and Shirley Hanson Roberts was announced for the performing arts center.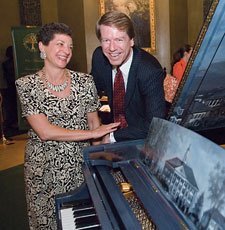 Donor, pianos and professor make perfect harmony (March 5, 2008) — When Elizabeth Swallow called professor Eric Ruple and asked for piano lessons, what happened next could only be described as perfect harmony.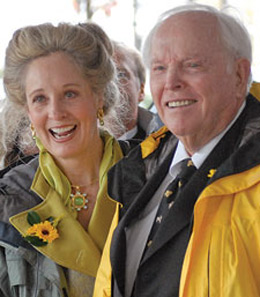 Gifts bolster performing arts center (January 28, 2008) — A number of sizable gifts totaling $5.8 million have bolstered efforts to reach the $10 million in essential private funding needed for the future performing arts center, which broke ground in October 2007.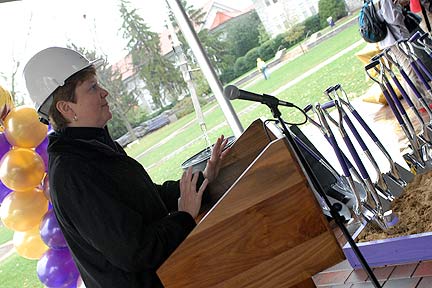 Rain falls, spirits soar at PAC groundbreaking (Oct. 26, 2007) — JMU President Linwood H. Rose and Dr. Marilou M. Johnson ('80), interim dean of the College of Visual and Performing Arts, joined major supporters in the groundbreaking to celebrate the Center.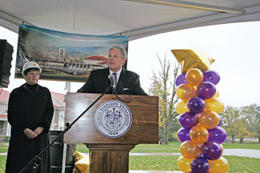 A new partnership portends a time for the arts (March 2005) — The Commonwealth expects the JMU to fund a portion of costs to complete its performing arts center in combination with gifts from private donors.