JMU Alumni Association
Donates the Forbes Center
Alumni Arts Courtyard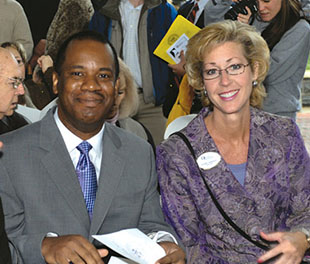 On the Friday before Homecoming 2007, with campus events of all kinds planned for outdoors, it began to drizzle and then to pour. The rain did nothing to dampen the spirits at the groundbreaking for the Forbes Center for the Performing Arts. The dozens of attendees, high-spirited in spite of the rain rolling off the tent and their umbrellas, and occasionally seeping down their necks, were unanimous in their enthusiasm for the celebration.
Of course, such ceremonies are symbolic events. The cameras flash and the crowd applauds, but the real labors of digging and building remain.
Indeed, the work remaining to be done on the Forbes Center was of a magnitude never before seen on the campus of James Madison University. The labor was not only construction work; but also, a private fundraising campaign to build the center.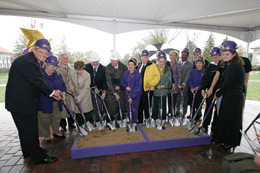 University administrators, donors and friends assembled under a tent on the Quad as the rain fell around them during the official ceremonial groundbreaking for the Forbes Center for the Performing Arts.
Among the leadership donors to the Forbes Center on hand to help break ground on the Quad at Homecoming 2007 were Jon Offley ('89), president of the JMU Alumni Association and former president Elaine Toth Hinsdale ('85).
The JMU Alumni Association donated $500,000 to support the Forbes Center for the Performing Arts and Madison's long tradition of excellence in art, dance, music and theater education by naming the Alumni Arts Courtyard.
When alumni return to campus and walk through the grand Alumni Arts Courtyard at the entrance of the Forbes Center, it honors the Madison Experience of all the graduates in the university's long history. From the original 20 members, the first-ever graduates of the Normal and Industrial School for Women at Harrisonburg, to more than 103,000 members today, the Alumni Association is proud to help Dukes stay connected to the university through the high-quality, student-oriented events showcased at the Forbes Center.
Sphinx Virtuosi Oct. 7
Mike Super Magic & Illusion Sept. 30
Pink Martini Featuring China Forbes
Oct. 26
All Things Equal - The Life and Times of Ruth Bader Ginsburg Nov. 1-2
2023 Circle of Excellence in the Arts Award Winner Heifetz International Music Institute