JMU Alumni Association Arts Courtyard at the Forbes Center Honors Artistic Endeavor
A plaque commemorating the JMU Alumni Association's gift of $500,000 to support the Forbes Center for the Performing Arts by naming the Alumni Association Arts Courtyard is now in place.
Walking through the grand courtyard at the entrance of the Forbes Center evokes powerful sentiment. One can't help but be reminded that Madison has a long tradition of excellence in art, dance, music and theatre education.
Yet, the new Forbes Center for the Performing Arts marks a beginning as well. With state-of-the-art classroom, rehearsal and performance spaces, JMU students have the very best resources to breathe life into imagination.
Madison's visual and performing artists enrich life for countless others with works that awe, delight and inspire. The Alumni Association is proud to honor their endeavors and be a part of making the future of the arts at JMU brighter than ever.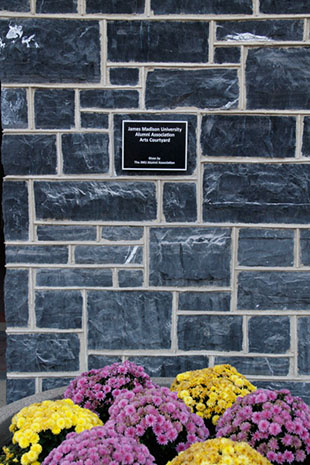 Sphinx Virtuosi Oct. 7
Mike Super Magic & Illusion Sept. 30
Pink Martini Featuring China Forbes
Oct. 26
All Things Equal - The Life and Times of Ruth Bader Ginsburg Nov. 1-2
2023 Circle of Excellence in the Arts Award Winner Heifetz International Music Institute