A New Partnership Portends a Time for the Arts
March 2005 — Beginning with teacher education 100 years ago, James Madison University has evolved throughout its history in response to the changing needs of society and the Commonwealth of Virginia. Facilities and programs for business and education grew in the 1980s. Facilities and programs in science and technology developed at a great pace in the 1990s. Along the way, facilities and programs in the health professions grew as well. These campus additions took place as the university accepted more and more students to keep up with the commonwealth's growing population. As a result, James Madison University has been transformed; it is not only larger, but it is even more highly regarded academically.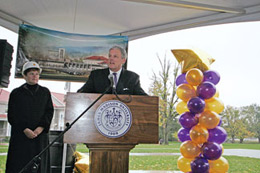 As the university plots its continued progress, it is now time for the arts to take center stage. In 2002, Virginians voted to pass a bond resolution that included significant capital funding for James Madison university. A $51 million portion of that bond was earmarked to build the new Forbes Center. This is a meaningful and timely project because it will allow Madison—after its tremendous growth in specific program areas and enrollment—to maintain its commitment to a balanced liberal arts education.
As a part of the bond financing arrangement for the Forbes Center, the Commonwealth expects the university to fund a portion of costs to complete the Center with gifts from private donors. With the project estimated to cost more than $91.5 million, James Madison University is reaching out to alumni and friends to realize the entire vision.
For donors interested in making gifts that can transform the university and the community, the Forbes Center is a once-in-a-lifetime opportunity. Contact the JMU Office of Development at (800) 296-6162 for more information.
Sphinx Virtuosi Oct. 7
Mike Super Magic & Illusion Sept. 30
Pink Martini Featuring China Forbes
Oct. 26
All Things Equal - The Life and Times of Ruth Bader Ginsburg Nov. 1-2
2023 Circle of Excellence in the Arts Award Winner Heifetz International Music Institute