Stopping the Spread
Aug 3 - Dec 31
JMU
Stopping the Spread
Aug 3 - Dec 31
JMU
ARTWORK BY JMU CREATIVE MEDIA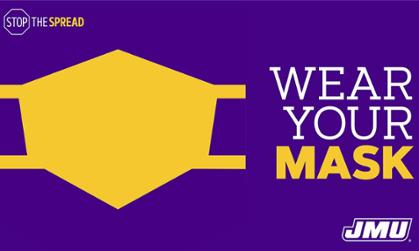 Teaching and Reinforcing the Use of Face Coverings

Faculty, staff and students are required to wear face masks which cover the nose and mouth at all times when in classrooms, labs and other public settings (indoors and outdoors) where physical distancing measures are difficult to maintain. JMU has provided five masks per employee; students are required to provide their own masks, though there will be disposable masks available in classrooms and cloth masks for sale in the bookstore.
Students, faculty and staff who have a religious belief or medical condition that prevents them from wearing a face covering will be exempt from this requirement. There might be other physical distancing strategies that can be put in place. Faculty and staff should confer with their supervisor, then, if necessary, contact their departmental Human Resources Consultant to handle any needed exceptions.
JMU has obtained N95 masks for faculty and staff over the age of 65 or those with certain conditions who might have a higher risk for COVID-19 infection. These masks are available by request from Academic Affairs or Facilities Management.
Online training regarding the use and requirement of masks is available for students, staff and faculty.
Employees who do not wear masks should be reported to their supervisors. Penalties will depend on the infraction.
Students who do not wear masks in the classroom will be dealt in accordance with Academic Affairs Policy #12, Disruption of Class, which outlines the progressive discipline for student misbehavior and has been updated to include responses to COVID-19.
Face Coverings in the Classroom

Faculty are required to wear a cloth face covering while in any learning space, unless the faculty member has a religious or health exception. In these cases, a faculty member may use an alternate face covering (i.e., shield). Each faculty member was provided with five cloth face masks. Faculty teaching students who are hearing impaired will be provided with face shields.
Face shields will be made available and will be required for faculty and students to address limited social distancing options in experiential learning spaces, like labs and studios, where physical distancing is difficult.
To provide increased room for physical distancing, we shifted some campus spaces, including campus ballrooms and large auditoriums, to be used as classrooms. We then moved classes to larger spaces, maintaining the current class enrollment while increasing the physical distance among students and between students and faculty members. Courses with fewer students were then moved into the now-vacated larger classrooms. This system allows us to maximize campus spaces while maintaining the appropriate physical distance.
In addition, plexiglass shields have been installed in front of all classroom podiums. Disposable masks will be available in classrooms in case they are needed.
Face Coverings for Students

Students, along with all other JMU community members, are required to wear a face mask or, if an accommodation is needed, another approved face covering at all times. If a student refuses to comply with this requirement, campus police may be contacted for support, as needed, and the case will be referred to the Office of Student Accountability and Restorative Practices.
Face Coverings in Public Areas

All JMU community members are required to wear a face mask or, if an accommodation is needed, another approved face covering. While in their private offices with their doors closed, employees may remove their face masks.
Where feasible, visitors should be provided a face covering when they do not have their own. JMU will provide one box of disposable masks for each office suite. If a customer refuses to wear a face covering, departments should ask the customer to return at another time or determine if assistance can be provided while maintaining physical distancing. Contractors are also required to wear face coverings. Staff, faculty, student and visitor safety should be the first priority in considering how to handle the situation.