[an error occurred while processing this directive]
JMU Wind Symphony
Thu, May 2 @ 8 pm
CONCERT HALL
JMU Wind Symphony
Thu, May 2 @ 8 pm
CONCERT HALL
PHOTOS BY BOB ADAMEK AND CALEB SCHLABACH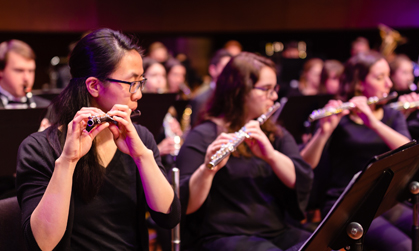 The JMU Wind Symphony, under the direction of Stephen P. Bolstad, is the premier woodwind, brass and percussion ensemble at JMU. The Wind Symphony is committed to performing the great works of the wind band's core repertoire while also exploring the best of contemporary composition.
Since 2007, the ensemble has hosted on-campus residencies with composers including David Maslanka, John Mackey, Michael Daugherty, Joel Puckett, Steven Bryant, Donald Grantham and JMU alumnus Brian Balmages. The ensemble has also presented consortium premieres of Maslanka's Symphony No. 8, Puckett's The Shadows of Sirius, Grantham's Tuba Concerto, Plog's Concerto 2010 and Balmages' Portraits in Bluestone. As part of JMU's annual Contemporary Music Festival, students have had the opportunity to work with composers such as Karel Husa, Joseph Schwanter, Don Freund, Donald Erb, John Harbison, Francis McBeth, Mark Camphouse and Samuel Adler.
In addition to an active on-campus concert schedule, the Wind Symphony has performed at the College Band Directors National Association/National Band Association conventions in Nashville, New Orleans, Charlotte, Williamsburg and Greensboro, plus numerous performances for the VMEA Conference. They have also performed at the Kennedy Center in 2007 and 1987. Graduates of the Wind Symphony hold positions in several of the Washington-based military bands, military post bands and symphony orchestras throughout the world; numerous graduates are serving as noted educators and conductors throughout the country.
Seating: Reserved
Patron Policies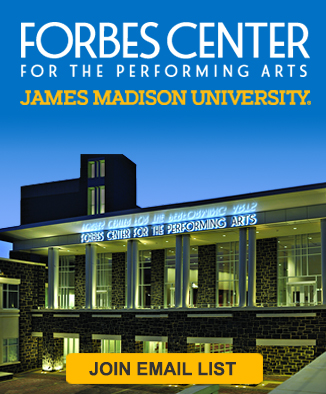 The Forbes Center for the Performing Arts to Host Holiday Food Drive November 6 through December 15 Benefiting the Blue Ridge Area Food Bank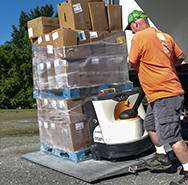 View the 2023-2024 Masterpiece Season Brochure on Issuu.com
Trey McLaughlin and  The Sounds of Zamar Nov. 16
Karla Bonoff and Livingston Taylor Together in Concert Dec. 13
International Guitar Night Feb. 27