[an error occurred while processing this directive]
International Guitar Night
With Luca Stricagnoli, Thu Le, Marco Pereira, and Minnie Marks
Tue, Feb 27 @ 8 pm
CONCERT HALL
International Guitar Night
With Luca Stricagnoli, Thu Le, Marco Pereira, and Minnie Marks
Tue, Feb 27 @ 8 pm
CONCERT HALL
PHOTOS COURTESY OF HERSCHEL FREEMAN AGENCY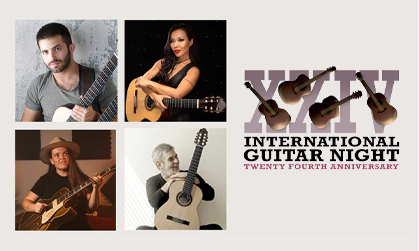 "This is a buffet of beautiful music." 
— Guitar Noise
International Guitar Night (IGN) celebrates 24 years as the world's premier touring guitar festival, bringing together four amazingly gifted luminaries to share an incredible evening of solos, duets, and quartets that highlight the diversity within the world of acoustic guitar. This concert features the amazing acoustic rock interpreter Luca Stricagnoli (Italy) whose latest invention, a custom triple necked guitar, is a viral sensation; the award-winning Thu Le (Vietnam) whose nylon string artistry stretches from classical to contemporary; Marco Pereira (Brazil) the master composer and teacher, and Minnie Marks (Australia) the blazingly talented blues slide guitar wizard and singer. IGN is a gathering of individuals who captivate on their own and then blow away the audience when they perform together!
Hailing from Italy, Luca Stricagnoli is a world-renowned guitarist known for his innovative fingerstyle techniques and genre-blending musical arrangements. Stricagnoli's jaw dropping virtuosity includes playing up to 5 guitars at the same time. His repertoire, performed on double and triple neck guitars he himself designed, includes a blend of popular songs from contemporary rock, film scores and originals earning him more than 100 million views on his Youtube channel.
Thu Le's love affair with the guitar began at the age of four, thanks to her father. Thu entered the National Conservatory of Music in Hanoi at seven, the youngest ever student admitted. Her passion led her to countless critically acclaimed solo concerts worldwide. In addition to playing music reflecting her cultural roots in Vietnam, she also includes classic and contemporary composers in her repertoire; including a piece in memory of her father, Lới Lơ, composed especially for her by Sergio Assad.
IGN 2024 is privileged to host a living legend, Marco Pereira. Hailing from Brazil, he has worked with superstars like Gal Costa, Milton Nascimento, Tom Jobim and countless others. Through his exquisite interpretations and solo performances, he contributed significantly to the global appreciation of Brazilian guitar music. Pereira's original compositions are considered modern masterpieces for classical guitar. And, his performances are marked by their emotional depth and technical brilliance.
From winning the world renowned 'Bluesfest Busking Competition' in 2011, to earning the winning place of 'Best Guitarist' at the Open Arms Festival competition, it's safe to say Minnie Marks is a dynamic force in Australian music. She's an exploding powerhouse of guitar talent and energy with a fearless approach to performance that includes accompanying herself on drums while playing guitar. She effortlessly blends blues, rock and roots music into a style uniquely her own - one that has gained her a wide following around the world.
Seating: Reserved
Patron Policies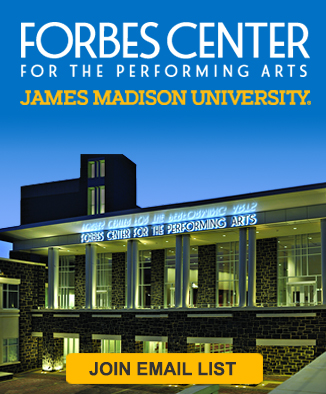 The Forbes Center for the Performing Arts to Host Holiday Food Drive November 6 through December 15 Benefiting the Blue Ridge Area Food Bank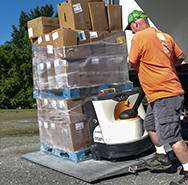 View the 2023-2024 Masterpiece Season Brochure on Issuu.com
Trey McLaughlin and  The Sounds of Zamar Nov. 16
Karla Bonoff and Livingston Taylor Together in Concert Dec. 13
International Guitar Night Feb. 27