Ian Zook, horn, with Tracey Schimmel-Reed, piano
Featuring special guest Kevin Stees, tuba
Fri, Sep 24 @ 7 pm
RECITAL HALL
Ian Zook, horn, with Tracey Schimmel-Reed, piano
Featuring special guest Kevin Stees, tuba
Fri, Sep 24 @ 7 pm
RECITAL HALL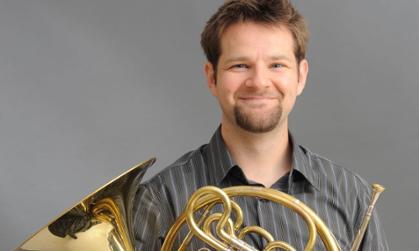 JMU faculty member Ian Zook is an active orchestral and solo performer, and has appeared in concerts throughout the U.S., Europe and Asia. Zook will perform with pianist Tracey Schimmel-Reed and JMU faculty tubist Kevin Stees a program featuring works by female composers, including I Threw a Shoe at a Cat by Catherine Likhuta and Every Day an Alleluia by Elizabeth Raum.
Ian Zook is an active orchestral and solo performer, and has appeared in concerts throughout the United States, Europe and Asia. As soloist he has performed with ensembles including the Staunton Music Festival, Charlottesville Symphony, Virginia Baroque Consort, Chamber Orchestra of Charlottesville, and the JMU Symphony, Brass Band, Wind Symphony, Percussion Ensemble, and Madison Singers.
Zook is a frequent substitute musician with the Philadelphia Orchestra, the National Symphony, and the Harrisburg, Richmond and Virginia symphonies. He has performed at the Staunton, Verbier, Pacific, Sarasota, AIMS in Graz, and Aspen music festivals, as well as the National Orchestral Institute. 
His solo CD with pianist Eric Ruple of 20th-century sonatas, Musica Incognita, was released on MSR Classics in 2018. As Associate Professor of Horn at JMU, Zook is active in symposia of the International Horn Society, hosting the 2016 Southeast Workshop. He holds degrees from UNC-Chapel Hill and the University of Michigan.
Pianist Tracey S. Reed maintains a wide-ranging portfolio of large and small ensemble work with a special emphasis on collaboration with choirs, vocalists and woodwinds. She devotes particular attention to the coaching of students at the collegiate and graduate level in their preparations for various performances and recitals. Reed's current choral collaboration is as principal pianist of the renowned Shenandoah Valley Children's Choir, an ensemble she began working with in 2015. Other recent appointments include pianist for several National Association for Teachers of Singing conferences and for the James Madison University Kodály Institute. Reed holds an M.M. and a B.M. from JMU, and her undergraduate work was tailored to focus especially on accompanying and coaching skills.
Kevin Stees, in his 37th year as professor of tuba and euphonium at JMU, leads an active career as a soloist, chamber musician, conductor and music educator. He has been a finalist in several solo competitions and was a prizewinner in the Second International Brass Congress Tuba Solo Competition. Stees has presented solo and chamber music performances at universities, conferences, music festivals and workshops throughout the United States. He conducts the JMU Brass Band and Massanutten Brass Band. Full bio
Seating: Reserved
Patron Policies