JMU Brass Faculty in Concert
Featuring Chris Carrillo (trumpet), Andrew Lankford (trombone), Kevin Stees (tuba), Ian Zook (horn), with Lori Piitz (piano), and Amy Robertson (piano)
FORBES CENTER @ HOME
Apr 26 - May 3
STREAMED THROUGH MAY 3
JMU Brass Faculty in Concert
Featuring Chris Carrillo (trumpet), Andrew Lankford (trombone), Kevin Stees (tuba), Ian Zook (horn), with Lori Piitz (piano), and Amy Robertson (piano)
FORBES CENTER @ HOME
Apr 26 - May 3
STREAMED THROUGH MAY 3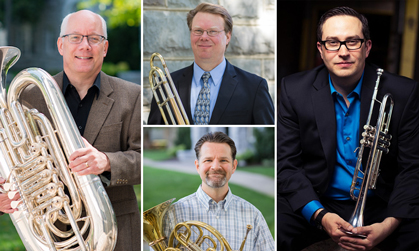 JMU brass faculty members Chris Carrillo, Andrew Lankford, Kevin Stees and Ian Zook combine forces with JMU faculty pianist Lori Piitz and pianist Amy Robertson to perform a concert featuring works by Andrea Clearfield, Albin Frehse, Philip Gaubert, Ann Giffels, Benjamin McMillan, and Joseph Turrin. This event is free. Donations are encouraged and will support student scholarships in the College of Visual and Performing Arts. Event livestreamed on April 26, 2021. Available for on-demand viewing through May 3, 2021.
Dr. Chris Carrillo is an active performer in classical, commercial, and early music mediums and performs regularly with the New Orchestra of Washington and throughout the greater Washington, D.C. area. He is a former member of the Victoria and Corpus Christi Symphony Orchestras, the Pittsburgh New Music Ensemble, and the Austin City Brass. He joined the JMU School of Music in 2009 as the studio trumpet professor and principal trumpet of the Madison Brass. Full bio
Andrew Lankford is principal trombone with the Waynesboro Symphony Orchestra, trombonist with the Madison Brass, and a member of Mr. Jefferson's Bones. He has performed with numerous ensembles including the North Carolina Symphony, Longview Symphony, Winston-Salem Symphony, Greensboro Symphony Orchestra, Lynchburg Symphony Orchestra, Shenandoah Symphony Orchestra, Brevard Chamber Orchestra, and the Kansas City Boulevard Big Band. He has also performed with commercial artists including Wayne Newton, Gladys Knight, The Temptations, and Margaret Whiting. Full bio
Kevin Stees, in his 36th year as professor of tuba and euphonium at JMU, leads an active career as a soloist, chamber musician, conductor and music educator. He has been a finalist in several solo competitions and was a prizewinner in the Second International Brass Congress Tuba Solo Competition. Stees has presented solo and chamber music performances at universities, conferences, music festivals and workshops throughout the United States. He conducts the JMU Brass Band and Massanutten Brass Band. Full bio
Ian Zook is an active orchestral and solo performer, and has appeared in concerts throughout the United States, Europe and Asia. He has performed as soloist with numerous ensembles including the Staunton Music Festival, the Charlottesville Symphony, the Virginia Baroque Consort, the Chamber Orchestra of Charlottesville, and the JMU Symphony Orchestra, Brass Band, Wind Symphony, Percussion Ensemble, and Madison Singers. He actively performs at annual workshops and symposia of the International Horn Society. Ian's website
Pianist Lori Piitz is a versatile artist whose career includes such diverse opportunities as playing chamber music at Lincoln Center in New York City and performing in a German opera house dressed as a baby chick! She holds graduate degrees from Indiana university as well a Certificate in Injury-Preventive Piano Technique from Salem College. She has spent the past 18 years teaching at JMU, working with talented piano students and teaching courses in pedagogy and "Preparing for the Job Market." Full bio
Amy Robertson has been a featured soloist with the Prince William Symphony Orchestra and a finalist in the Hilton Head International Piano Competition. She has been piano accompanist of the Shenandoah Valley Choral Society since 1996, and served as an accompanist at the North American Brass Band Association annual conference from 2012-2018. Robertson holds a B.A. in piano accompanying and an M.M. in piano performance from JMU.
Seating: Online
Patron Policies