JMU Jazz Ensemble and Jazz Band
JMU Jazz Ensemble and Jazz Band
Tue, Dec 3 @ 8 pm
CONCERT HALL
JMU Jazz Ensemble and Jazz Band
Tue, Dec 3 @ 8 pm
CONCERT HALL
PHOTO BY BOB ADAMEK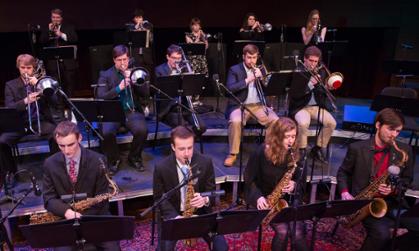 The JMU Jazz Ensemble and Jazz Band, along with JMU jazz faculty guest artists, will perform classic recordings by Nat King Cole, the great jazz singer and pianist who recorded over 100 songs that became hits on the pop charts in the 1950s and 1960s. The year 2019 marks the centennial of Cole's birth.
The JMU Jazz Ensemble and Jazz Band were founded in 1971 and are under the direction of Dr. Chuck Dotas; membership in each ensemble is determined via audition each semester. JMU jazz groups have performed at the Kennedy Center for the Performing Arts' Terrace Theater, Montreux International Jazz and Blues Festival, North Sea Jazz Festival and VMEA annual convention.
The JMU Jazz Ensemble has been featured with the U.S. Navy Commodores Jazz Ensemble and U.S. Air Force Airmen of Note Jazz Ensemble and at the East Coast Jazz Festival in Rockville, Maryland. The ensemble has performed with renowned artists like Bobby McFerrin and esteemed jazz vocalist Sheila Jordan.
Seating: Reserved
Patron Policies